Northern Virginia 4-H Educational Center Offering Fall Retreat and Camping Opportunities for Individuals, Couples, Families, and Youth Groups
Are you looking for a safe and somewhat rustic fall retreat and/or camping trip to take with your family, significant other, or close immediate group of friends to escape to nature? Would you like to see the vibrant fall colors and explore the Appalachian Trail and the Shenandoah Mountains? Or perhaps you would like to hold a camping outing for a Girl Scout, Boy Scout, Cub Scout Troop or other small youth group in which you are involved? If so, the Northern Virginia 4-H Educational Center might be just the place for you!
Located in Front Royal, Virginia, just under 1.5 hours away from Washington, D.C., the Northern Virginia 4-H Educational and Conference Center provides an affordable, family-friendly getaway,  small youth group retreat, and camping facility. While the 4-H Center typically hosts large events, conferences, and camps throughout the year, many of those have been canceled or postponed this year due to COVID-19. Therefore, for the rest of the year, the 4-H Center has opened-up its lodges and property to individuals, couples, families, and small youth groups looking to find an opportunity to safely get away for the weekend or during the week to escape outdoors and to enjoy and explore nature and the beauty of the Shenandoah Valley.
Adjacent to Shenandoah National Park, the Northern Virginia 4-H Educational Center provides a great opportunity for those seeking to come and visit the mountains to see the fall colors. The Center also offers a perfect and safe opportunity for families and groups that would like a camping — but perhaps not outdoors in a tent — experience.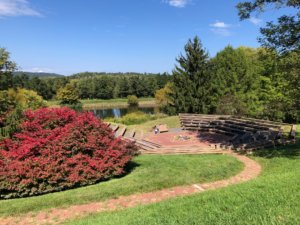 Families can rent a room and/or set up a tent on the property if they would like. The 4-H Center has rooms with dedicated Heat/A/C, twin-sized bunks, and a private restroom/shower. Many of the rooms are even walk-out directly, so no walking through a lobby.  To avoid sharing, individuals are required to provide their own bedding and toiletries.
Amenities: The 4-H Center has great hiking opportunities on-site including direct access to the Appalachian Trail from the property (10-minute direct hike to the AT). Self-led and self-equipped recreation options on the property include lake fishing, basketball, tennis, softball, disc golf, and lots of open green space for day activities or tent camping. We have picnic shelters and two campfire circles and which can be rented and used by small groups.
Location: The 4-H Center is located just south of Front Royal, VA and provides nearby amenities such as Skyline Drive, Shenandoah National Park, Skyline Caverns, Luray Caverns, Dinosaur Land, canoeing on the Shenandoah River, 5 public golf courses, and several wineries, local shops, and eateries.
Cost: Cost is $100/room/night plus tax and includes a boxed, continental breakfast. Rooms sleep 4 and can adjoin with the adjacent room to sleep 8 total. Additional meals can be arranged and provided for groups.
Pets: Our rooms are dog-friendly!  Dogs must be leashed at all times when outside of your private lodge room.  Owners are expected to clean up after their pets.  Pet waiver addendum will be included with registration materials and pet fee is an additional $20/night for up to 2 dogs, and $10/night per additional dog.
COVID-19 Safety Measures: Note that to ensure the public health of all 4-H Center 4-H Center employees, users and other visitors, the 4-H Center is strictly adhering to State of Virginia COVID-19 requirements and Federal CDC guidelines for camps.  Therefore, all visitors and 4-H Center Guests are required to wear facial coverings in lodge hallways, entering/exiting the Dining Hall, and any other times that social distancing cannot be maintained, indoors or outdoors.  Additionally, limited outdoor seating options are available for all meals and indoor dining hall adheres to Virginia State Phase III reopening requirements. The property is very large, so that even when we are busy, it is easy to social distance for outdoor activities on the 4-H Center grounds.
Reservations/Additional Information: To make a reservation or for additional information call and speak to Chris Newlon, 4-H Center Events Manager, at 540-635-7171 or email her at chris@nova4h.com.